Negotiations Update
A letter to the membership - short and detailed versions.
Fellow House Officers,
TLDR Version:
The contract negotiations process with the University has been frustrating and challenging with slow progress, largely due to the GME leadership's belief that House Officers are "students," not employees (despite US Supreme Court precedent affirming us as employees).
The University has been slow in presenting the HOA a proposal for financial aspects of our contract. After more than 60 hours at the negotiating table and only on the insistence of the state-appointed mediator, the University presented a proposal for an annual salary increase of 1.25% and frozen lump sum. This offer is difficult to accept in the face of the University's financial performance over the past 5 years and the increasing cost of living in Ann Arbor at roughly 3.1% per year. This offer is, simply put, a pay cut.
The HOA will not entertain a clearly unfair offer. In the next steps we will prepare counter offers that appropriately recognize our value to the institution as well as account for the increasing cost of living expenses.
We will continue to keep you updated and welcome your feedback as our collective voice will be necessary to reinforce with the University the far-reaching implications and importance of this contract – both for the livelihood and success of House Officers.
Detailed Version:
As many of you know, the negotiations process with the University has been extremely challenging and frustrating due to what we, the bargaining team, perceive to be dilatory tactics and reticence to acknowledge our legitimacy as a negotiating entity. For instance, many discussions have reverted back to the question of whether we have the statutory legal right to bargain on behalf of our membership over mandatory subjects, such as compensation, work environment, employment related licenses and fees, retirement, profit sharing, etc.
This is related to the belief held by the leadership of Graduate Medical Education that House Officers are "students," rather than employees. Even though the Supreme Court of the United States has already declared that House Officers are employees in prior proceedings (Mayo versus United States 2011), we believe this issue underlies the motivation for non-agreement from the University side.
With regards to the financial components of the contract, the University has decided on a range for the contract cost based on an assumption that the current salary and benefits are sufficiently competitive. They have cited our position in the 75th percentile regionally for compensation, but this assessment has been taken out of context. Based on conversations thus far, the highest point in their range is still 7-8% below what we consider an appropriate raise, given the continued increase in cost of living for our members and the University's strong financial performance in recent years.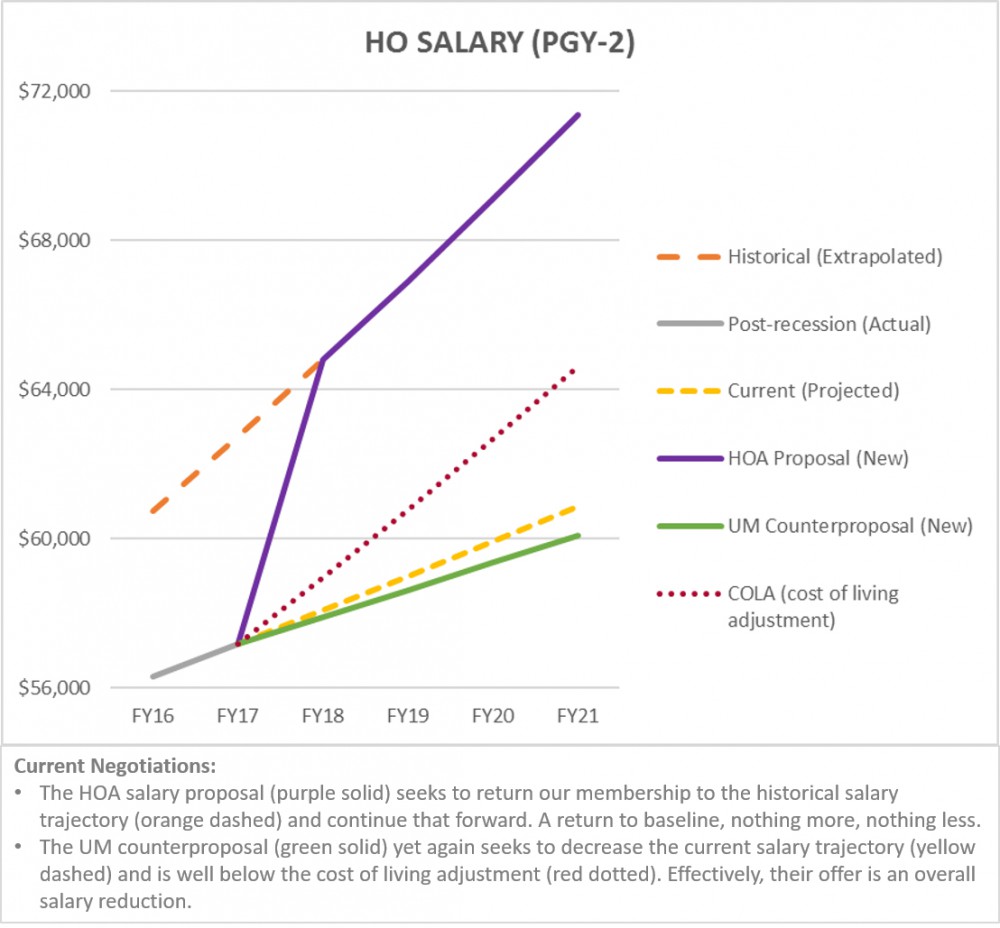 On April 20th, after 60 hours at the bargaining table, the University, at the insistence of the state-appointed mediator, finally presented its first financial offer, which included a 1.25% annual salary increase and freezing the lump sum for the next 3 years. As the above graph illustrates, their proposal is, in effect, a pay cut, considering that the cost of living for Ann Arbor has been increasing by 3.1% annually.
We will not be deterred. Please know that your bargaining team is advocating tirelessly on your behalf and drafting reasonable counter proposals. We will be updating you more frequently as we share your concerns and want you to be as informed as possible.
In solidarity,
Josh Glazer - Pulm/Crit. Care (Lead Negotiator), Michael Clery - Emergency Medicine, Mark DeWood - Anesthesia, Xin He - Internal Medicine, Ari Kanters - Surgery, Dave Turer - Surgery, Osama Kashlan - Neurosurgery, Shashank Sinha - Cardiology, Elias Taxakis - Radiology, Arjun Sondhi – IM/GI, Adrienne Carey - Med/Peds, Leeann Pavlek - Peds, Daniel Southren - Anesthisai, Joel Castellanos - PM&R, Peter White - Surgery, Paul Leonard - Emergency Medicine, Heather Wahl - Ob/Gyn, Jon Mowers - Pathology, and Robin Tarter, (HOA Executive Director).